My wife does this amazing thing I always forget to do which is buy other people things when she's out. It's this adorable thing she always does, and it often yields some of my favorite little keepsakes. I kind of suck at buying things in general. I once bought her a paperweight for Valentine's day. The little homey, on the other hand, is remarkable at gift-giving. Recently, I came home to find several records lying on the table.
"The neighbor was having a yard sale, so I grabbed those for you," she said just as sweet as you please. They all turned out to be really incredible, but one has really risen above the rest as a truly genius record, and I listen to it often.
First, the cover was absolutely incredible.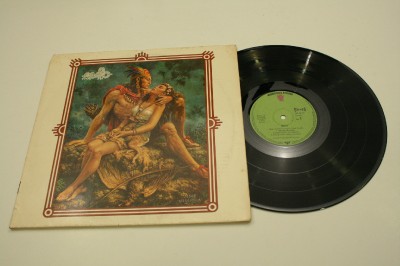 Second, the band is called "Malo." That's bad.
I had never heard of Malo, but this 1972 self-titled record really surprised me. Malo fuse American funk and Latin Jazz with Latin syncopation and vocal harmonies which seem to find roots in a rich array of groups from the Beach Boys to the classic beautiful Latin-American trios of the '30s and '40s (Los Panchos, Los Tres Aces, Los Tres Reyes, etc.) There are huge, heavy guitar riffs and screeching organ stabs that seem to harken back to early Grand Funk recordings. The production is very spacious with the percussion typically dominating only making way occasionally for a surprisingly familiar guitar solo. Turns out the main guitarist is Jorge Santana, brother of Latin guitar legend, Carlos Santana.
Listen: Malo – Suavecito
Download: Malo – Malo